$20.00
NZD
Category: Comics & Graphic Novels | Series: Wings of Fire Graphic
The Wings of Fire saga continues with a thrilling underwater adventure--and a mystery that will change everything... The lost heir to the SeaWing throne is going home at last. She can't believe it's finally happening. Tsunami and her fellow dragonets of destiny are journeying under the water to the gr eat SeaWing Kingdom. Stolen as an egg from the royal hatchery, Tsunami is eager to meet her future subjects and reunite with her mother, Queen Coral. But Tsunami's triumphant return doesn't go quite the way she imagined. Queen Coral welcomes her with open wings, but a mysterious assassin has been killing off the queen's heirs for years, and Tsunami may be the next target. The dragonets came to the SeaWings for protection, but this ocean hides secrets, betrayal--and perhaps even death. ...Show more
$17.00
NZD
Category: Comics & Graphic Novels | Series: The Baby-Sitters Club Graphix
Kristy, Mary Anne, Claudia, and Stacey are best friends and founding members of The Baby-sitters Club. Whatever comes up -- cranky toddlers, huge dogs, scary neighbors, prank calls -- you can count on them to save the day. Baby-sitting isn't always easy, and neither is dealing with strict parents, new f amilies, fashion emergencies, and mysterious secrets. But no matter what, the BSC have what they need most: friendship.Raina Telgemeier, using the signature style featured in her acclaimed graphic novels Smile and Sisters, perfectly captures all the drama and humor of the original novel ...Show more
$20.00
NZD
Category: Comics & Graphic Novels | Series: Wings of Fire Graphic Novel
The #1 New York Times bestselling Wings of Fire series soars to new heights in the third graphic novel adaptation. Glory knows that the dragon world is wrong about her being "a lazy RainWing." Maybe she wasn't meant to be one of the dragonets of destiny, but Glory is sharp and her venom is deadly...eve n if that's still a secret. So when the dragonets seek shelter in the rain forest, Glory is devastated to find that the treetops are full of RainWings that nap all day and know nothing of the rest of Pyrrhia. Worst of all, they don't realize -- or care -- that RainWings are going missing from their beautiful forest. But Glory and the dragonets are determined to find the missing dragons, even if it drags the peaceful RainWing kingdom where they never wanted to be -- into the middle of the war. The #1 New York Times bestselling Wings of Fire series soars to new heights in this third graphic novel adaptation, with art by Mike Holmes. ...Show more
$17.00
NZD
Category: Comics & Graphic Novels | Series: Baby-Sitters Club Graphix
When The Baby-sitters Club gets into a huge fight, Mary Anne is left to her own devices. She has to eat by herself in the school cafeteria, figure out how to make new friends, and deal with her overprotective father. But the worst happens when she finds herself in a baby-sitting emergency and can't turn to her friends for help. Will Mary Anne solve her problems "and" save The Baby-sitters Club from falling apart? Raina Telgemeier, using the signature style featured in her acclaimed graphic novels "Smile" and "Sisters," perfectly captures all the drama and humor of the original novel! ...Show more
$17.00
NZD
Category: Comics & Graphic Novels | Series: The Baby-Sitters Club Graphix
A brand-new graphic novel adapted by USA Today bestselling author Gale Galligan Stacey and Mary Anne are baby-sitting for the Pike family for two weeks at the New Jersey shore. Things are great in Sea City: There's a gorgeous house right on the beach, a boardwalk, plenty of sun and sand... and the cut est boy Stacey has ever seen. Mary Anne thinks that Stacey should leave Scott alone and focus on the Pike kids, but Stacey's in love. Looking for reasons to hang around his lifeguard stand takes up all of her time, which means Mary Anne has to do the job of two baby-sitters. Mary Anne doesn't like it one bit How can she tell Stacey that Scott just isn't interested without ruining their friendship and breaking Stacey's heart? ...Show more
$17.00
NZD
Category: Comics & Graphic Novels | Series: Baby-Sitters Club Graphix
This graphic novel adapted by Raina Telgemeier, the #1 "New York Times" bestselling, multiple Eisner Award-winning author of "Smile," is now available in full color! Claudia and her sister, Janine, may as well be from two different planets. Claudia, who pays more attention to her artwork and The Baby-si tters Club than her homework, feels like she can't compete with her perfect sister. Janine studies nonstop, gets straight As, and even takes college-level courses! But when something unexpected happens to the most beloved person in their family, will the sisters be able to put aside their differences? Raina Telgemeier, using the signature style featured in her acclaimed graphic novels "Smile" and "Sisters," perfectly captures all the drama and charm of the original novel! " ...Show more
$17.00
NZD
Category: Comics & Graphic Novels | Series: The Baby-Sitters Club Graphix
Dawn Schafer is the newest member of The Baby-Sitters Club. While she's still adjusting to life in Stoneybrook after moving from sunny California, she's eager to accept her first big job. But taking care of the three Barrett kids would be too much for "any" baby-sitter.
$17.00
NZD
Category: Comics & Graphic Novels | Series: The Baby-Sitters Club Graphix
A brand-new full-colour graphic novel adapted by bestselling author Gale Galligan! Kristy's mom is getting married, and Kristy is going to be a bridesmaid! The only trouble is, fourteen kids are coming in town for the wedding. Kristy, Claudia, Mary Anne, Stacey, Dawn, and Mallory think they can handle it, but that's before they spend a week changing diapers, stopping arguments, solving mix-ups, and planning activities. It's the biggest job the BSC has ever had, but they'll work together to make sure Kristy's big day is a success! ...Show more
$17.00
NZD
Category: Comics & Graphic Novels | Series: Baby-Sitters Little Sister Graphix
A fresh and fun graphic novel series spin-off of The Baby-sitters Club, featuring Kristy's little stepsister Karen Brewer lives next door to Mrs. Porter, who wears long robes and has wild gray hair. Mrs. Porter has a black cat named Midnight and always seems to be working in her garden. Karen isn't sup posed to spy on her neighbor, but she's determined to prove that Mrs. Porter is a witch named Morbidda Destiny. Mrs. Porter is getting ready to have a special meeting at her house, and Karen is sure the meeting is for witches. Are they going to cast a spell on Karen? Or will she be brave enough to send them away -- once and for all? ...Show more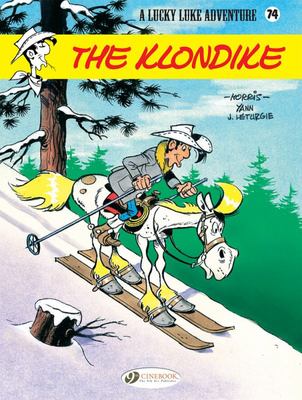 $23.00
NZD
Category: Comics & Graphic Novels | Series: Lucky Luke Ser.
Gold has been found in the Klondike, a remote region in the Canadian far north! Jasper, the manservant of 'Tenderfoot' Waldo, went to try his luck... and vanished. Worried about his man, Waldo calls upon his old friend Lucky Luke. The two men will have to make the dangerous trip to the Klondike, only to face all those who, in that desolate, inhospitable land, will stop at nothing in order to fleece their fellow man. ...Show more
$23.00
NZD
Category: Comics & Graphic Novels | Series: Adventures of Tintin
Windows, mirrors and chandeliers are spontaneously shattering and Tintin is left flummoxed. After a shooting and a break in, Tintin knows Calculus is in danger, but he has only one clue - an unusual packet of cigarettes. He has a mystery to solve. But can he do it before a terrible weapon falls into the wrong hands? ...Show more