$40.00
NZD
Category: Health and Wellbeing
 There is a voice of longing inside each woman. We strive so mightily to be good: good partners, daughters, mothers, employees and friends. We hope all this striving will make us feel alive. Instead, it leaves us feeling weary, stuck, overwhelmed and underwhelmed. We look at our lives and wonder: Wasn't it all supposed to be more beautiful than this? We quickly silence that question, telling ourselves to be grateful, hiding our discontent - even from ourselves. For many years, Glennon Doyle denied her own discontent. Then, while speaking at a conference, she looked at a woman across the room and fell instantly in love. Three words flooded her mind: There She Is. At first, Glennon assumed these words came to her from on high. But she soon realised they had come to her from within. This was her own voice - the one she had buried beneath decades of numbing addictions, cultural conditioning and institutional allegiances. This was the voice of the girl she had been before the world told her who to be. Glennon decided to stop abandoning herself and to instead abandon the world's expectations of her. She stopped being good so she could be free. She stopped pleasing and started living. Soulful and uproarious, forceful and tender, Untamed is both an intimate memoir and a galvanising wake-up call. It is the story of how one woman learned that a responsible mother is not one who slowly dies for her children, but one who shows them how to fully live. It is also the story of how each of us can begin to trust ourselves enough to set boundaries, make peace with our bodies, honour our anger and heartbreak, and unleash our truest, wildest instincts. Untamed shows us how to be brave. And, as Glennon insists, 'The braver we are, the luckier we get.'   ...Show more
$45.00
NZD
Category: Health and Wellbeing
Wendyl's story of living the simple life in the country: gardening, foraging, fishing and the freedom she has found in ageing. Beautifully illustrated and including 100 new and delicious recipes. 'An absolute cracker of a guide to feeling content by living more naturally.' - Lynda Hallinan 'When I rea d A Natural Year I swear I could breathe more deeply after about 10 pages.' - Catherine Woulfe, nzpoetryshelf.com A Natural Year follows writer Wendyl Nissen's life in the peaceful New Zealand countryside over one year. It's the story of what happens in her garden, her kitchen and her life over twelve months, and the thoughts inspired by each passing season. She writes about the freedom that she has found in ageing and the joy that comes along with it. She addresses her depression, anxiety and the mental well-being she's gained from her back-to-basics lifestyle and the practical things she does to live in a sustainable, natural way. With photographs taken at her home in Northland, Wendyl shares 100 new recipes, including how to make yeast from grapes, yoghurt using chilli stalks and many others she has discovered. In a world which can be full of stress and confusion, A Natural Year is a guide to a simpler, less complicated life. ...Show more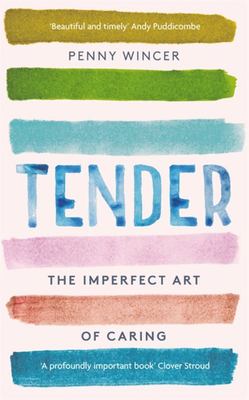 $38.00
NZD
Category: Health and Wellbeing
'An insightful and well-timed book ... forces us to confront the stereotypes - and prejudices - we hold.' SUNDAY TIMES 'Tender is a profoundly important book, full of wisdom and bright insights on what it really means to love someone, by a fearless and generous writer. ' CLOVER STROUD 'A beautiful and t imely reminder that each and every one of us has the ability to care, the capacity for empathy, and the potential to grow.' ANDY PUDDICOMBE, author of HEADSPACE 'A wonderful book: compassionate, honest, carefully-reasoned and genuinely helpful... This will benefit many people.' KATHERINE MAY, author of WINTERING 'An invaluable tool for any invisible carers or anyone who wants to learn how to better support their loved ones... we ALL have many, many things to learn from Penny's beautiful, wise, charming, thoughtful words' - SCARLETT CURTIS, Sunday Times bestselling author 'Moving and beautifully written, nuanced and wise, alert to every paradox at the heart of love. A hugely important book not only for current or future carers, but anyone learning to accept that life tends to resist our control.' - OLIVIA SUDJIC, author of EXPOSURE 'Tender captures the powerful capacity of people to care for others, and all the heartbreaking and heartwarming complexity that this involves. Penny brings the crucial, yet often overlooked, role of caring into our collective consciousness and, in doing so, demonstrates what it means to be human.' -DR EMMA HEPBURN, author of A TOOLKIT FOR MODERN LIFE 'Penny Wincer's TENDER manages to combine both unromanticised honesty about the realities of care with a genuine uplifting hopefulness... is a must-read.'- RUTH WHIPPMAN, author of THE PURSUIT OF HAPPINESS We are all likely - at some point in our lives - to face the prospect of caring for another, whether it's a parent, child or partner. It is estimated that there are 7 million people in the UK caring for loved ones. And yet these are the unpaid, unsung people whose number is rising all the time. In Tender: the imperfect art of caring, Penny Wincer combines her own experiences as a carer with the experiences of others to offer real and transformative tools and insights for navigating a situation that many of us are either facing or will face at some time. Penny Wincer has twice been a carer: first to her mother, and now as a single parent to her autistic son. Tender shows how looking after oneself is a fundamental part of caring for another, and describes the qualities that we can look to cultivate in ourselves through what may otherwise feel to be an exhausting task. Weaving her lived experience with research into resilience, perfectionism and self-compassion, Penny combines the stories of other carers alongside those who receive support - offering an often surprising and hopeful perspective. ...Show more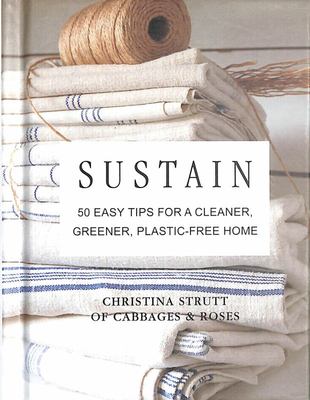 $15.00
NZD
Category: Health and Wellbeing
How to live a more sustainable life and create a calmer, healthier, eco-friendly home without using plastics.   Making small lifestyle changes can make a big difference to our planet. Sustain is full of advice and information to help you take a more eco-friendly path. Recycling, reusing, and shopping at farmers' markets are a good start, but cutting down on the use of poisonous chemicals is just as important--it's perfectly possible to clean a house using nothing more than lemons, baking soda, vinegar, and plain water. Old-fashioned tips passed down through generations are complemented by newer ideas and innovations. As you move toward greener alternatives, why not try growing some of your own vegetables, fruit and herbs, and use them to make jams, oils and chutneys using the handy tips. Make beauty preparations and bath oils, too, for soothing, effective treatments to enhance everyday health and wellbeing. There are lots of ways to make do and mend, and by taking care of your clothes and not participating in fast fashion you will contribute less to the environmental impact of the fashion industry. Becoming eco-friendly just takes some readjustment; and by following the advice in this invaluable guide you will find yourself living a calmer, greener life. ...Show more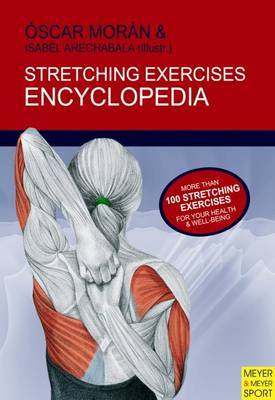 $35.00
NZD
Category: Health and Wellbeing
Furthermore, each exercise includes information about the movement one needs to perform, the posture that one must adopt, common mistakes that should be avoided, the principal and secondary muscles worked with this exercise, as well as a series of very useful tips and advice. Any athlete will realize h ow regular stretching can improve their physical body shape and their quality of life. ...Show more
$40.00
NZD
Category: Health and Wellbeing | Series: Core Teachings of Dalai Lama Ser.
Exploring the esoteric subject of Dzogchen, His Holiness offers insights into one of Buddhism's most profound systems of meditation. He discusses both the philosophic foundations and the practices of this system--taking into account the approaches of various schools and teachers.   To these teachings, His Holiness brings all those qualities which are so uniquely his--the accumulated knowledge of years of study, his curiosity, humor, and compassion, and his seemingly infinite subtlety of mind. Paying tribute to the uniqueness of Dzogchen, His Holiness sets it within the wider spectrum of Tibetan Buddhism as a whole. He explains the essence of Dzogchen practice and addresses subjects such as why it is called "the pinnacle of all vehicles," what its special features are, and the crucial principles of the other Buddhist paths that a Dzogchen practitioner should know. ...Show more
Eat Like The Animals
by David Raubenheimer; Stephen J. Simpson
$40.00
NZD
Category: Health and Wellbeing
Our evolutionary ancestors once possessed the ability to intuit what food their bodies needed, in what proportions, and ate the right things in the proper amounts--effortlessly balanced. When and why did we lose this ability, and how can we get it back? David Raubenheimer and Stephen Simpson answer the se questions in a compelling narrative, based upon five "eureka" moments they experienced in the course of their groundbreaking research. The book shares their colorful scientific journey--from the foothills of Cape Town, to the deserts of Australia--culminating in a unifying theory of nutrition that has profound implications for our current epidemic of metabolic diseases and obesity. The authors ultimately offer useful prescriptions to understand the unwanted side effects of fad diets, gain control over one's food environment, and see that delicious and healthy are integral parts of proper eating. ...Show more
$40.00
NZD
Category: Health and Wellbeing
In Joy at Work, KonMari method pioneer Marie Kondo and organizational psychologist Scott Sonenshein will help you to refocus your mind on what's important at work, and as their examples show, the results can be truly life-changing. With advice on how to improve the way you work, the book features advice on problem areas including fundamentals like how to organize your desk, finally get through your emails and find what sparks joy in an open plan office. Like how the key to successful tidying in the home is by tackling clutter in the correct order, Joy at Work adapts the inspirational KonMari Method for the workplace, taking you step-by-step through your professional environment so that you can identify the most joyful way to work for you. Once you've found order in your work life, you can feel empowered to find confidence, energy and motivation to create the career you want and move on from negative working practices. ...Show more
$37.00
NZD
Category: Health and Wellbeing
'I deserve this.' 'This is my reward.' 'I'm allowed to treat myself.' Ever uttered these statements to yourself as you opened a bottle of wine at 5pm? If so, you're not alone. Women around the globe are buying and consuming alcohol at alarming rates never seen before. But is it doing us any favours? Is it really that treat or reward that we deserve? Lotta Dann thinks not. In The Wine O'Clock Myth, Lotta takes an in-depth and eye-opening look at women's drinking habits. Written through the lens of her own story and her work in the field of addiction and recovery, Lotta explores the privileged position alcohol holds in our society, the way the liquor industry targets women and the damaging 'Wine Mum' social media culture.She reveals the damage alcohol is causing to women: physically, emotionally and socially; and the potential reasons why so many women are drinking at harmful levels.And she talks to a number of brave women who share detailed, intimate stories about their personal relationships with alcohol. Stories that are at times brutal and heartbreaking, but also inspiring and heart lifting.The Wine O'Clock Myth is a powerful, important book that may well change the way you think about alcohol forever. ...Show more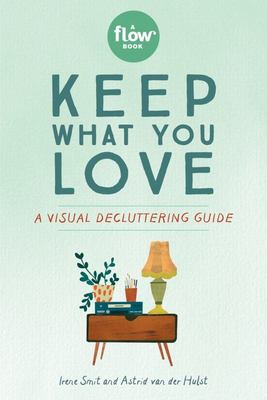 $25.00
NZD
Category: Health and Wellbeing | Series: Flow Ser.
Living with less is such a compelling idea. From The Life-Changing Magic of Tidying Up to Remodelista: The Organized Home to Flow's own The Big Book of Less, simplify is the message, and books are how we learn to do it. Now Flow brings its whimsical, visual-forward lens to the subject of decluttering, r esulting in a most charming and yet quite practical impulse book on how to sort through the too-much-stuff of life. The premise is so simple: the artist Lotte Dirks has illustrated hundreds of common items - oven mitts, incomplete board games, a pair of skis, novelty ice cube trays, a dying plant, a feather duster, flip-flops, a waffle maker, old Christmas cards, a manual typewriter, chipped dishes, defunct phone chargers, a rocking horse, and so on. Beneath each drawing are two little checkboxes: Yes and No. Look at the item. Note your response (be honest - the only right answer is the one that's right for you). Check one of the boxes. And act accordingly! Additionally, boxes and asides offer dozens of creative tips for how to organise, how to tackle big jobs like a full closet, and ideas to what do with things we can't part, with like children's artwork or old books - all through Flow's sensibility of finding pleasure in the imperfect and the overlooked. ...Show more
$40.00
NZD
Category: Health and Wellbeing
Hugh van Cuylenburg was a primary school teacher volunteering in northern India when he had a life-changing realisation- despite the underprivileged community the children were from, they were remarkably positive. By contrast, back in Australia Hugh knew that all too many children struggled with depress ion, social anxieties and mental illness. His own little sister had been ravaged by anorexia nervosa. How was it that young people he knew at home, who had food, shelter, friends and a loving family, struggled with their mental health, while these kids seemed so contented and resilient? He set about finding the answer and in time came to recognise the key traits and behaviours these children possessed were gratitude, empathy and mindfulness. In the ensuing years Hugh threw himself into studying and sharing this revelation with the world through The Resilience Project, with his playful and unorthodox presentations which both entertain and inform. Now, with the same blend of humour, poignancy and clear-eyed insight that The Resilience Project has become renowned for, Hugh explains how we can all get the tools we need to live a happier and more fulfilling life.     ...Show more
$30.00
NZD
Category: Health and Wellbeing
THE POWER OF NOW has proved to be one of the greatest spiritual books written in recent times. It contains a power that goes beyond words, and it can lead us to a much quieter place beyond our thoughts, a place where our thought-created problems dissolve, and we discover what it means to create a libera ted life. Throughout, there are specific practices and clear keys that show us how to discover for ourselves the grace, ease and lightness that come when we simply quieten out thoughts and see the world before us in the present moment.PRACTICING THE POWER OF NOW is a carefully arranged series of excerpts from THE POWER OF NOW that directly give us those exercises and keys. Read this book slowly, or just open it at random, reflect on the words, reflect even on the space between the words, and maybe over time, maybe immediately you ll discover something of life-changing significance. You ll find the power, the ability to change and elevate not only your life, but your world as well.It s in your hands. Discover THE POWER OF NOW. ...Show more