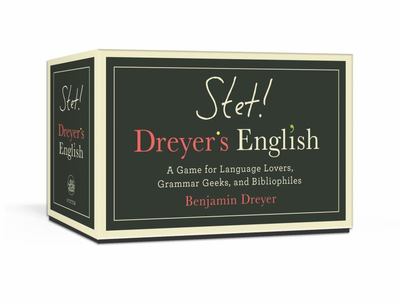 $37.00
NZD
Category: Puzzles and Games
Whats' wrong with this sentence? If that misplaced apostrophe flew right up your nose, this is the game for you. Based on the New York Times bestseller by Random House's copy chief Benjamin Dreyer, STET! will help you sharpen those language skills or give you a reason to show them off (you know who you are). There are 100 entertaining sentences waiting for you, the copyeditor, to correct--or, alternatively, to STET. The first person to spot the error, or else call out "STET!" (a copyeditor's term that means "let it stand") if there is no error, gets the card. There are two ways to play- compete for points in a straightforward grammar game, or play with style and syntax and whip the author's sentences into splendid shape. The person with the most cards at the end of the game wins! It's perfect for every level of writer, from high school students wanting to brush up before a test to co-workers looking for an engaging ice-breaker. With STET!, English has never been more stylish. ...Show more
$30.00
NZD
Category: Puzzles and Games
Piece together the pop art universe in this jigsaw puzzle depicting the madcap world of art from Botticelli's Birth of Venus to Damien Hirst's diamond-encrusted skull. Spot a huge collection of art-world darlings (including Andy Warhol, Salvador Dalí, Frida Kahlo and Yayoi Kusama) and savour a fantastic al multitude of artistic details as you build the puzzle. ...Show more
$19.00
NZD
Category: Puzzles and Games
The essential companion for the dedicated Mah Jong player who also enjoys the social aspect of the game.   Since the arrival on the market of Patricia Thompson and Betty Maloney's two previous books, The Game of Mah Jong Illustrated and Improve Your Mah Jong, a wide range of hands from many parts of the world has been sent to them. In this player's companion, the authors have put together a cross-filed reference guide where more than 120 hands, illustrated in color, can be quickly identified by following the flip-top headings on each page. A full synopsis of each hand is included. The extra hands give an international flavor to the book, adding new interest and challenges. ...Show more
$25.00
NZD
Category: Puzzles and Games
Match the dogs and puppies of 25 breeds from around the world in this beautifully illustrated memory game. To play, simply place the cards face down and see if you can remember where the dog and its puppy are located. Collect more pairs than your opponent to win!With all kinds of breeds included - from Siberian Huskies to Pugs and Dachshunds to Dalmatians - this fun and educational game will appeal to dog lovers everywhere. ...Show more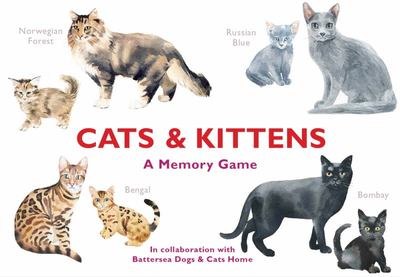 $22.00
NZD
Category: Puzzles and Games
Match the cats and kittens of 25 breeds from around the world in this beautifully illustrated memory game. To play, simply place the cards face down and see if you can remember where the mother cat and her kitten are located. Collect more pairs than your opponent to win! With all kinds of breeds includ ed - from the British Shorthair to the Siamese, and from the Maine Coon to the hairless Sphynx - this fun and educational game will appeal to cat lovers everywhere. ...Show more
$23.00
NZD
Category: Puzzles and Games | Series: Usborne Book and Jigsaw
This striking 300-piece jigsaw shows the national flags of every independent country in the world for children to piece together and discover. Each flag is labelled, and the colourful, completed puzzle provides a great learning and memory aid to return to again and again.
$27.00
NZD
Category: Puzzles and Games | Series: Puzzle Power Ser.
Bridge is a hugely popular pastime enjoyed by millions, and yet whole books have been written about single aspects of the game, and learning the seemingly complex rules and language can be a daunting idea. So this is the essential guide to beginning your journey and getting in on the fun, covering every thing you need to know to get started and progress, from bridge basics, language and no-trump declarer play to analysing hands and working with trump suits. Defence play is then covered before going into bidding essentials and further bidding techniques and conventions. Keeping score and advice on taking things further rounds off this invaluable guide for the beginner. Clear explanations and examples make learning easy, and fresh writing from seasoned expert Mark Horton keeps things interesting, while a glossary of terms is a handy at-a-glance reminder of the meaning of key words and phrases. ...Show more
$19.00
NZD
Category: Puzzles and Games
Here are over 160 more hilariously hokey knee-slappers and puns in this third volume of The World's Greatest Dad Jokes. Tired of the same humdrum ill-fitting pants quips, or jabs about turkeys being flightless birds? This perfect Father's Day gift will keep the dads in your life on the pulse of family-f riendly corny humor. With The World's Greatest Dad Jokes Volume 3 on hand, everyone will be laughing with dads, not at them! ...Show more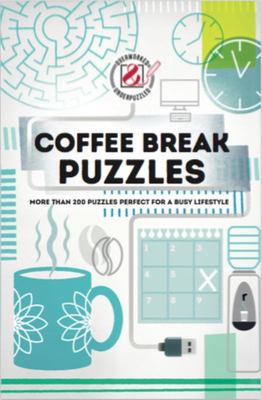 $18.00
NZD
Category: Puzzles and Games | Series: Overworked and Underpuzzled Ser.
Do you love puzzles but struggle to find time to fit them into your busy lifestyle? This book was made just for you! Coffee Break Puzzles is the ultimate challenge for those who often only have 5 minutes at a time between meetings, presentations, emails and collecting the children. All of the conundrums inside are designed to be concise but engaging, giving your brain a boost on your break. The puzzles include all levels of difficulty and there's something for every type of puzzler: crosswords, kriss kross, Sudoku, mazes, visual puzzles and so much more. ...Show more
$25.00
NZD
Category: Puzzles and Games
Play your favorite card games with Romeo and Juliet as King and Queen of Hearts, Lady Macbeth as Ace Villain, and let Adam Simpson's artwork bring Shakespeare's plays to life. Arranged in four suits--with hearts = lovers, clubs = fools, diamonds = heroes and heroines, and spades = villains, plus two jok ers, of course--this artist-illustrated deck of playing cards features 54 of Shakespeare's most famous characters. It includes a booklet with text about each character and their place in literary history. ...Show more